Your Website Builder 2.0 already comes with a built-in eCommerce solution which you can use straight away to set up your online store. Information about the features that the free version offers can be found here.
If you require more features from your eCommerce plan, here's how you can upgrade it to fit your business needs.
The steps are as follows:

1. Log in to SiteControl with your username and password (click for instructions).
2. Click on the Website Builder 2.0 icon under the Manage Services menu.



3. On the next window click on the Add Ecommerce button.



4. A new pop-up window will appear and you will need to select the plan that you want to update your Website Builder 2.0 eCommerce plan to.
5. Once you have selected the desired eCommerce plan, click on the Confirm button.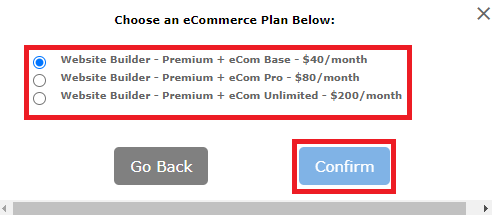 Further information about the eCommerce product plans and their respective features can be found here.

6. Once the upgrade order completes you will see your new eCommerce Plan active. If you need to upgrade/downgrade the current eCommerce Plan you can click on the Change Ecommerce Plan button,





select the desired plan and click on the Confirm button.