In order to start using Email Archiving, log in to the CONTROL PANEL, navigate to Services > Archiving, and then click Next on the deployment page.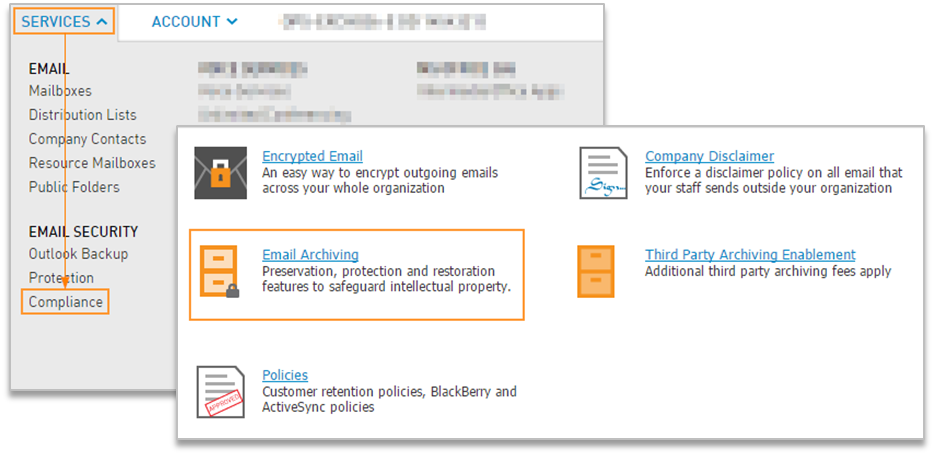 Step 1 allows you to select mailboxes for which you would like to enable Email Archiving. You can also choose if you would like to enable archiving automatically for newly created mailboxes.
Step 2. Data ingestion (optional)
By default, mail will start being archived from the moment you enable the service for the mailbox. That means that all messages sent to or from the mailbox are journaled to the archive. Step 2 allows you to ingest existing data for selected mailboxes:
all or selected user/resource mailboxes on the account (date range can be specified);
MessageMirror mailbox data;
locally stored data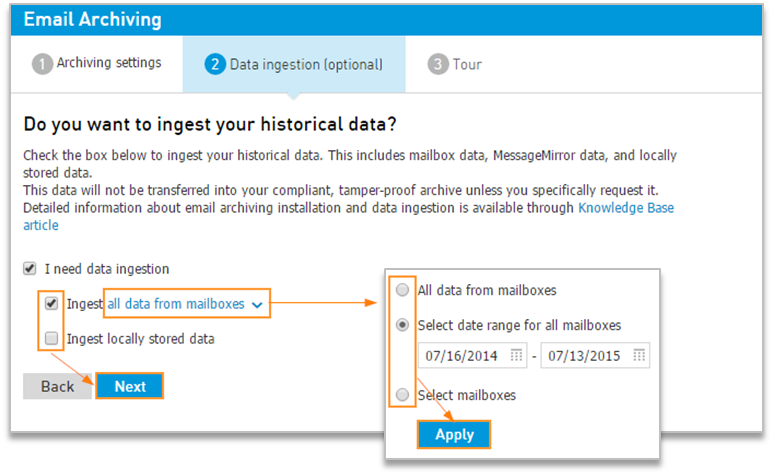 On step 3, you can take a tour to find out more about Email Archiving control panel. Click Finish to access the Email Archiving page in the CONTROL PANEL.
You can monitor the data ingestion progress on the Data ingestion tab. Total size column shows the size of data that was already ingested and Ingestion status shows the total size of data to be ingested.

Click the In Progress button for a specific mailbox to see more information about the data size.

If you initially chose to ingest data only for selected mailboxes, you can start a data ingestion process for other mailboxes on the same page. To do that, check the box next to the name of the mailbox which data you want to ingest and click Ingest Data.