A domain name alias is a registered domain name that points to another domain. Many companies choose to register several different domains, typically variations of the same domain name, and have them all point to the same central Web site.
For example, if your main website was www.example.com, you could also set up a domain alias using www.example1.com. When someone types in www.example1.com, they would be directed to your main website, but they would still see www.example1.com in their browser address bar. A domain alias preserves the original address that a person types in.
Registering multiple domain names for the same site not only brings the largest draw to your site but it also can prevent competitors from poaching your potential customers.
When choosing multiple domain names /or aliases/ for the same site, consider variations of your name such as common misspellings as well as both singular and plural versions of the same name.
Note: Before you can set up a domain name alias, you must first register the domain name you want to use as an alias. This process only enables the domain alias feature, it does not register the domain name. If the domain name you wish to use as the alias already exists under your account, then simply create the alias. Alternatively, if it exists elsewhere, then you must transfer it in order to use it as the domain alias.
---
To set up a domain name alias:
1. Log into SiteControl with your username and password (click for instructions)
2. Click on Website under the Manage Services section.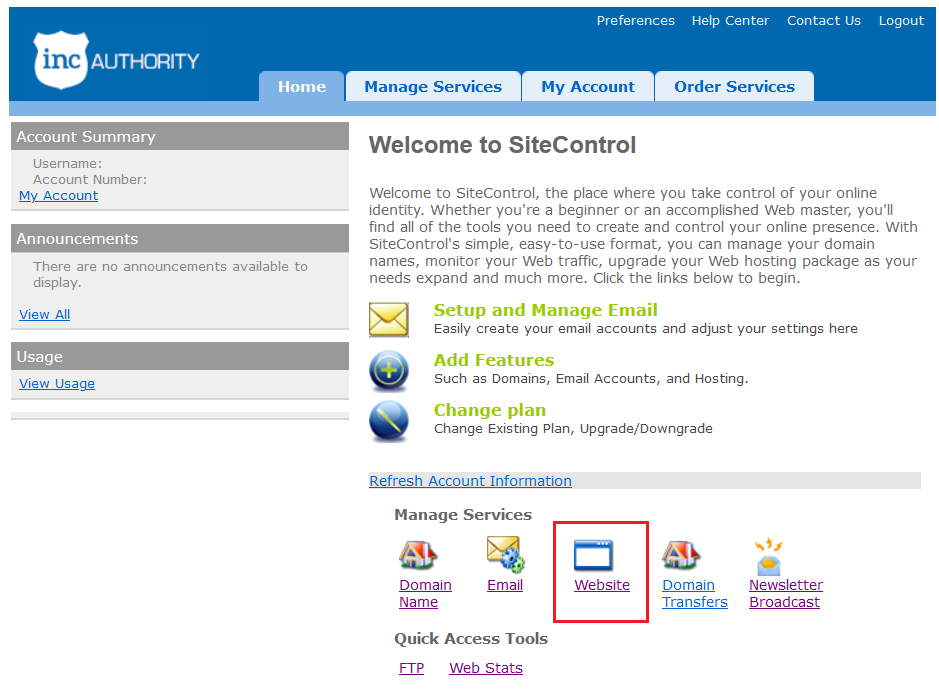 3. Scroll down, find and click the Domain Alias link. You can also click Domain Alias in the left navigation panel in SiteControl.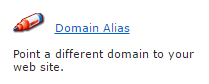 4. Select the proper domain name from the Currently Managing drop-down menu.
5. The Domain Alias Summary page displays any existing domain name aliases that have already been set up for your domain (If any)
6. Click "Create" to display the Create Domain Alias page.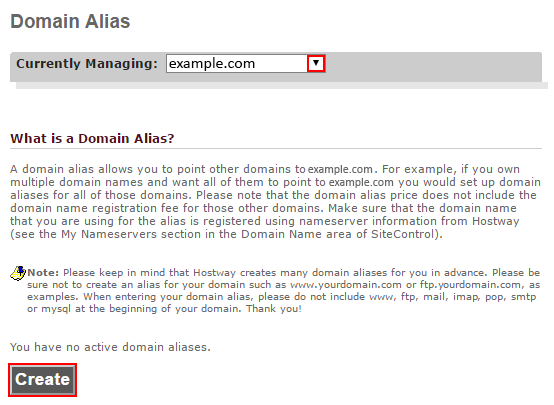 7. Enter the name of the domain you want to use as an alias. Do not include the "www" prefix.

8. Click Create Now.
9. A Request(s) Successfully Received message appears.

Note: In case you are exceeding the number of Free Domain Aliases included in your plan, you will be prompted to authorize the request by clicking on Purchase Now.


10. Your new domain name alias will appear on the Domain Name Alias summary page.

---