No, we do not support the "Open Location" feature in OWA 2007/2010/2013. To access SharePoint documents, users will need to open the SharePoint site in a new browser window and navigate to the necessary document library.
Technical overview
Windows SharePoint Services integration for Outlook Web Access was originally designed to give OWA users read-only access to documents on centralized or personal Windows SharePoint Services document libraries, i.e. give users access to internal resources not exposed to the Internet. This is not the case with hosted SharePoint, which can easily be accessed from anywhere.
Troubleshooting
If an OWA user attempts to open a SharePoint document from Documents > Open Location, the user will get the following error message: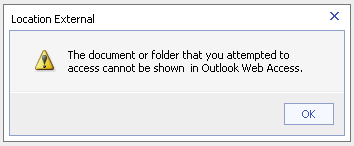 This is by design. The user should go to the SharePoint site instead.